Kids in Parks offers an expanding network of family-friendly outdoor adventures called TRACK Trails. Each TRACK Trail features self-guided brochures and signs that turn your visit into a fun and exciting outdoor experience. Best of all, you can earn PRIZES for tracking your adventures!
TRACK Trails include hiking trails, biking trails, geocaching trails, paddling trails, nature trail disc golf courses, and even adventures you can do in your own backyard! In addition to getting prizes in the mail, you can TRACK your adventures in your own online nature journal and see how many trails you've visited, how many miles you've hiked, and more. What are you waiting for? Sign up today and begin a lifetime of adventure in the great outdoors!
Program History
Kids in Parks started with a vision in 2008 to improve the health of children and the health of our parks by making existing trails more attractive and fun for novice users. At that time, the Blue Ridge Parkway Foundation, National Park Service, and Blue Cross and Blue Shield of North Carolina Foundation joined together to formally link the health of children to the health of parks by creating a strong network of trails and partners in the communities on and along the Blue Ridge Parkway.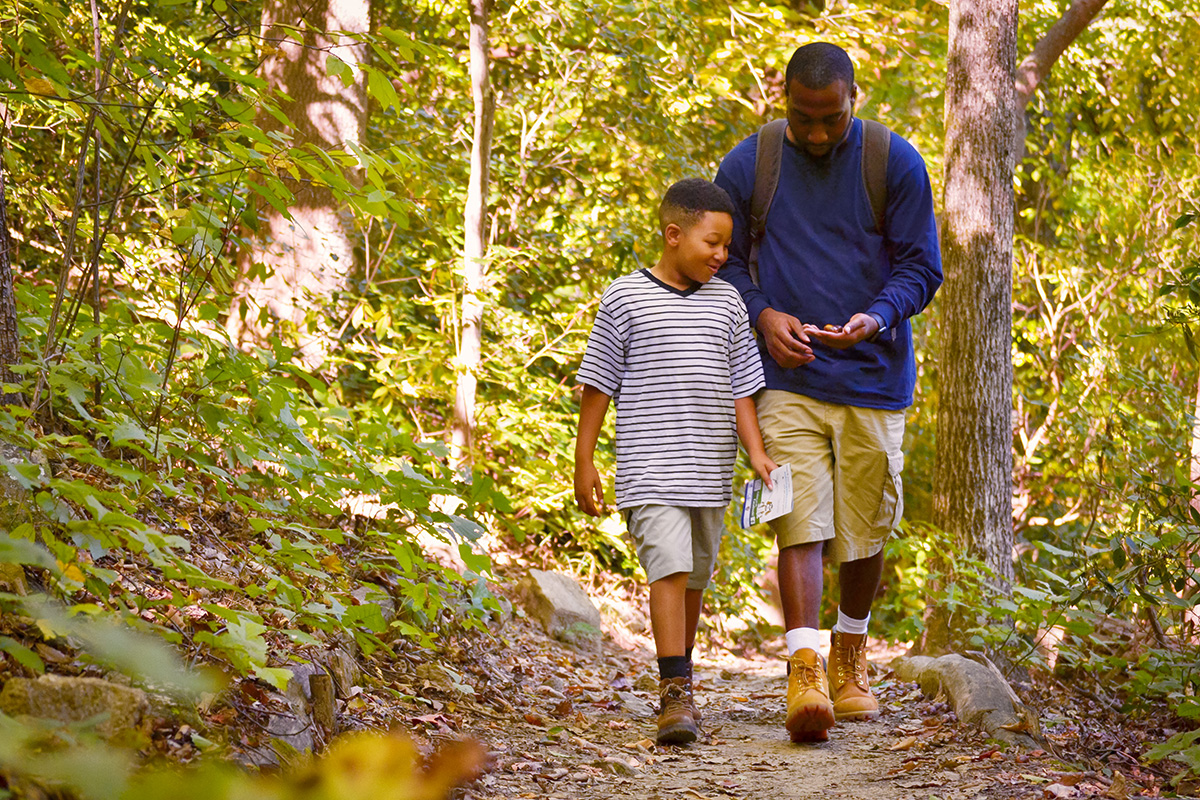 The regional program was so successful that parks across the country rapidly embraced Kids in Parks TRACK Trails due to its demonstrated effectiveness and ease of implementation. Today, there are more than 190 TRACK Trails in 12 states, Washington DC, and the Eastern Band of the Cherokee Nation, comprising a national network of self-guided adventures that inspire kids and families to be more physically active outdoors. Additionally, the program has received numerous national and international requests for information from other public land management and healthcare organizations.
As one of the only health-related nature programs in the country with data demonstrating results, the program has been endorsed by the American Academy of Pediatrics, recognized by the White House with a "Let's Move! Champion of Change" award, and reviewed favorably as a practice-tested intervention by the Center for Training and Research Translation — a program funded by the Center for Disease Control. After only a few years, the Kids in Parks program is now supported by a strong partnership of private and public groups investing together for the health of our parks and our children.
TRACK Trails in Lake Murray Country:
Richland County
Newberry County
More TRACK trails are being added to neighboring counties. Check back for updates soon!